Love can appear at any moment. 
For Sammy and David Froimson, it sprouted when they shared cinnamon doughnuts Sammy plucked from a college dining hall.
As sophomores in college, Jena and Josh Payne ruminated on how they could plan a low-cost cross-country road trip together. 
The Paynes, who live on Cleveland's East Side, made that voyage in summer 2021, a few months before they wed. And the Froimsons, who reside in Cleveland's West Side, reminisce about their sweet beginning as they wait for their baby to be born in June. 
The couples' romantic beginnings led them to jHUB, an organization based in Cleveland, Ohio, that has supported thousands of families personalizing their interfaith Jewish lives.  
Even though the Jewish Day of Love, Tu B'Av, is in August, we wanted to celebrate Valentine's Day in a meaningful way. We'd like to introduce you to these couples and share advice they gave for other families navigating issues unique to interfaith families. 
Embracing interfaith love 
David, 33, didn't believe Sammy, 30, would return to a group hang-out with his requested snack — the cinnamon doughnuts. 
When she did, they instantly felt an incredible connection together. But their path to marriage would be a few years. David graduated in 2011 and moved to Israel for a year to teach English in Israeli and Arab schools. 
But they kept in touch and became close friends.
In 2012, David moved back to Cleveland, and the pair experienced many firsts together as they dated. Their first "big kid" jobs, apartments, Jewish holidays for Sammy, and Catholic holidays for David. 
"Judaism was brand new to me, but every time I would join a new family celebration, it just felt more and more natural for me," Sammy said.
In 2019, the Northern Lights illuminated David's proposal in Iceland. The duo married during an intimate ceremony in August 2020 with their immediate families. 
David said it was helpful to have jHUB as a partner as he and Sammy figured out what kind of interfaith life made sense for them. 
As reflected on their journey, they gave this advice for interfaith families navigating their journey: Be mindful, ask many questions, surround yourself with resources, and communicate with families. 
Blending families 
Jena and Josh, both 26, fulfilled the college dreams they created their sophomore year.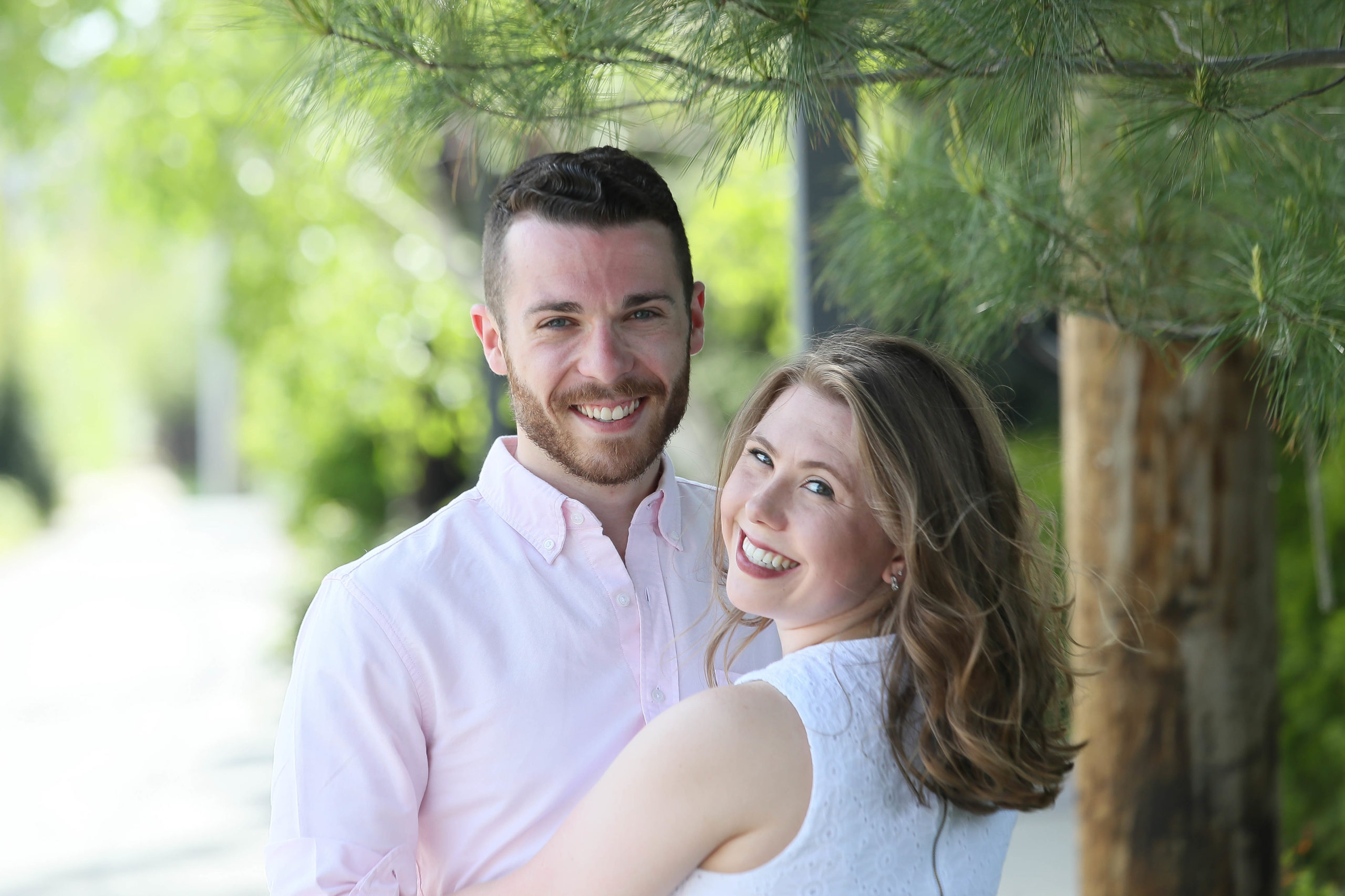 That's when Jena, who grew up Catholic, told Josh she wanted to marry him. Josh, who grew up Jewish, pitched the road trip to Jena with a PowerPoint presentation. 
In July 2020, Josh surprised Jena when he proposed in a romantic rose garden in Youngstown, Ohio, Jena's hometown. He was able to keep it a secret from Jena by telling her they were going to a photoshoot with her niece. 
A year later, Josh passed the BAR exam, and the engaged couple finally took the cross-country road trip as they anticipated their wedding set for January 2022. 
Through it all, the couple talked about how their interfaith partnership would take shape. They connected with jHUB and practiced patience, communication, and being comfortable with not deciding something until they had time to sit with it. They suggested other interfaith families do the same. 
Jena said they had a lot of difficult conversations and added that it was important for them to be open and honest about their expectations.
"If your mutual values are not aligned, you owe it to yourself to figure that out early," Josh said.
In January, a rabbi and priest married them in front of their family.
"It's emblematic of our plan to blend both faiths and traditions," Josh said.