On the mantle of a home in Twinsburg, Ohio, there's a picture Drew Dallet loves to display. 
His kids, Quinn and Piper, are arm in arm at their Jewish overnight camp in the photo. Drew laughed and said it's usually impossible to get siblings to stand for a nice picture. His kids are among the kids from interfaith families in Cleveland that are ecstatic to go back to camp this summer to continue making lifelong memories and bonds. 
In Hudson, Ohio, the Weinstein family is preparing for their 8-year-old daughter Nora to go to camp for the first time. 
And Brandon Arnold, 23, who grew up in Twinsburg, is planning his staff experience after more than a decade as a camp kid. 
"Camp has been a really, really big and transformative part of my life that has shaped my Jewish identity and, therefore, my entire identity," Brandon explained. 
Each family is in a different stage of their camp experience. These interfaith families sent their kids to a Jewish overnight camp to create lifelong bonds, immerse themselves in Jewish culture, and give them a space to grow into their personalities with peers and staff who embrace everyone's authenticity. 
They shared with jHUB why they decided camp was right for them and the valuable life lessons they had learned there so far.
A first-year camper
Amanda Weinstein, 40, grew up Christian and said she always wanted to go to camp but never went.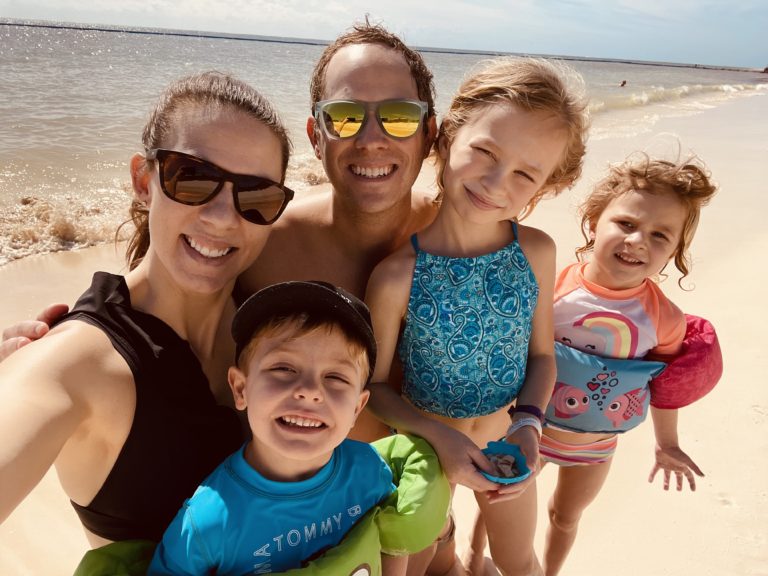 As she and her Jewish husband, Casey Weinstein, 39, built their interfaith family of five, they taught their kids about their backgrounds. They wanted their kids to experience different faith traditions by attending Temple Beth Shalom in Hudson and different churches that are welcoming to interfaith families and embrace inclusion. 
One day at their synagogue, Amanda started to think about camp again. They met a family whose daughter is friends with their daughter Nora. The family raved about Camp Wise, an overnight camp of the Mandel Jewish Community Center based in Chardon, Ohio.
Since Nora would have a friend there, and the family spoke so highly of the camp, Amanda said it sounded like a fantastic opportunity for her daughter. 
"I think it'll build her confidence into something that's all her own," Amanda said. 
Casey said he's looking forward to Nora being around other Jewish kids to enhance her connection to Judaism while having wonderful summer experiences. 
"This creates an adventurous, accessible way to build a deep Jewish connection for a kid and an identity," Casey shared.  
Seasoned campers mold their personalities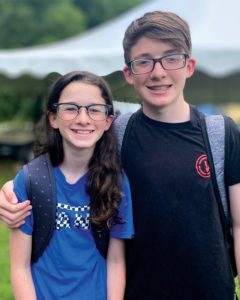 Drew Dallet's kids live for summer camp, he explained.
He and his wife, Blythe, both 52, molded their interfaith family by sharing and embracing Drew's Jewish culture. When their kids were old enough, Drew talked to Blythe about sending them to an overnight Jewish camp. 
Blythe, who doesn't observe a religion, was at first unsure about sending their kids to camp because she had summers off from her teaching job and wanted to spend time with their kids. After talking about the values Drew learned from being around other Jewish kids at camp and his youth group, they decided to give it a chance. 
So, at 9-years-old, their son Quinn fell in love with Goldman Union Camp Institute in Indianapolis, Indiana. He's gone ever since, and so has his 13-year-old sister Piper.  
Right now, Piper likes to dye her hair, a sense of freedom and self-expression Drew thinks she picked up at camp.  
"The lessons that they learned probably are the ability to just be who you are and make friends," Drew said. 
Adult life still shaped by camp 
Camp shaped many parts of Brandon Arnold's life. 
Brandon, 23, grew up in an interfaith family with divorced parents who decided to raise Brandon and his brother with Jewish culture and customs. Looking back on his time as a camper before he joined the camp staff this summer, he knows his parents realized how impactful it was for him.
He shared that his mom, who is Catholic, was hesitant at first because she didn't experience overnight camp. But, she learned to appreciate everything camp provided Brandon as he grew into the adult he is today.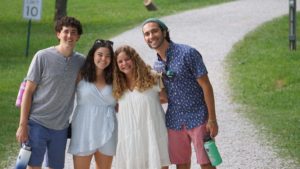 "I was introduced to it at a young age and stuck with it. It had a sort of snowballing effect," Brandon said. 
He joined the Goldman Union Camp Institute family when he was ten years old. He recently graduated from Miami University in Oxford, Ohio, where he observed Jewish customs on his own to feel connected to camp.  
"When I went to college, I like took it upon myself to incorporate Judaism into my life a little bit more," he said.
Singing songs at camp made him want to join choir. Learning about Judaism influenced him to become a Hebrew school teacher and continue other customs like making a warm bowl of matzah ball soup for dinner. 
"I got to like tap into that energy that I feel at camp," he said. "Which is something that I guess is kind of hard to explain. Other than just, you know, I'm very happy." 
If you are interested in learning more about Jewish overnight camps and opportunities for scholarships, please get in touch with us at jhub@jecc.org.