Elana caught a bus to explore Coventry Village, a bustling business district with shops for college students like her to explore minutes away from Case Western Reserve University.
Elana attempted to start a conversation with another student, Matt, after she overheard his hometown was where she went to a Jewish overnight camp. Was she flirting? Maybe. But, it took another five years for mutual friends to set them up, which ignited their interfaith love story.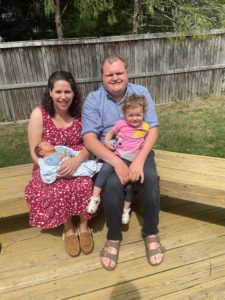 Now, Elana, 32, and Matt, 33, are customizing their Richter family Jewish life on the west side of Cleveland with their newborn Margot and 2.5-year-old Shira. As they giggled about the bus encounter, they talked about how they have balanced Matt's Catholic customs he collected from growing up in Wisconsin with Elana's Judaism her family practiced in Cincinnati.
With Passover coming up, the duo reflected on how they've approached the holiday some Jews celebrate to commemorate the Jews' Exodus from slavery in Egypt long ago. 
Six months into the relationship, Elana invited Matt to an impromptu Passover seder she hosted with roommates. Elana made her mom's brisket, her dad came, roommates clinked wine glasses, and Matt smiled and nodded his way through his first seder, a structured program that uses food as symbolism to engage with Jewish values. 
"We've streamlined more of what parts we value and enjoy as we've gone on, but that one was a lot," Matt said. 
Living Jewishly with evolving interfaith celebrations
To curate their experience, they talked about what they enjoy about religious gatherings. 
As Matt grew up, his family was very involved with the Catholic Church. What he enjoyed from that, he said, was the sense of community he felt. But in college, Matt struggled to find that community and missed it.
"The parts of it that I missed I've kind of found with the way Elana has approached her Judaism," Matt said. 
Together, they customize their holiday celebrations to reflect their family best. For example, Elana enjoys putting creative spins on Passover seders mixed with family customs. They found the sense of community Matt liked at a Reconstructionist Jewish community in University Heights, which views Judaism as an evolving civilization that changes over time.
Their family lives Jewishly beyond ancient holiday customs and visits to their Jewish community. They attend jHUB events for interfaith couples and families. And, every year during Passover, Elana and Matt watch the 1998 animated musical film The Prince of Egypt, which depicts the Passover story.  
At their Passover seder, they make it inclusive. 
"I was a bit of a seder snob growing up," Elana explained as she remembered how her family read every section, every paragraph, and sang every song. 
"That's just not practical for our family, for our children," Elana said. "But also, that's not fun for Matt. It's more interesting for Matt to bring in a different English reading or a different story to tell." 
They'll keep adjusting it as their children grow to make it meaningful for them, too. 
Sharing advice for interfaith holiday festivities
Beyond Passover, they've found ways to honor each other's backgrounds. They shared advice that other interfaith families could consider. 
"Prioritize what's important to each person," Matt said. "We don't do Easter, but we still do Christmas. We've kept the secular parts, and we've kept the family parts of that, and that really means something to me."
He added, "be aware of what your parents think, but choose your own path." 
Elana said adaptation and meaningfulness are essential. 
"It's a new tradition that you're making together," she said.